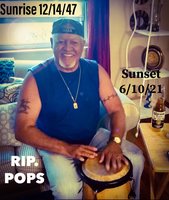 Hector Ivan Estremera
Hector "Ivan" Estremera Sr. of Camden, passed away on June 10, 2021 at 73 years. Ivan was born in Coamo, Puerto Rico and raised in Brooklyn, NY then came to Camden with the family in 1971.
He was in the Job Corps then enlisted in the US Army from 1968 to 1972.
He was an avid old school salsa listener and enjoyed playing his instruments.
He is survived by three sons, Ivan Jr, Danny (Natacha), David and by his grandkids, Armani, Kayvon, Nandi, Niel, Aniah, Deveny, Akira, Jaidyn, Ashanti, Alex and Nathaniel, and great grandkids, Nazareth, Genesis and Ayana.
Ivan was the youngest brother and the 5th oldest. He is survived by his siblings, Nilda Sanchez (Frank), Rosin, Jose "Papo",
Carmen Kendall (Duke), China, Nelly and the late Freddy. He is predeceased by his parents Carman and Andres.
He also leaves behind many nieces and nephews, great nieces and great nephews whom he loved dearly.
He was a jokester who had a great sense of humor and always enjoyed a family gathering. He will be missed, May you Rest in Eternal Peace!
We love you!
Relatives & friends are invited to the Visitation and Funeral on Thursday from 6 to 7 PM at Falco Caruso & Leonard Funeral Home, 6600 Browning Road in Pennsauken. A funeral service will be celebrated at 7 PM. At the request of the family, final disposition will be held privately.