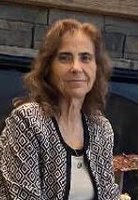 Lucinda Grimaldo - Trevino
Lucinda Grimaldo – Trevino of Pennsauken, formerly Houston, Texas passed away peacefully surrounded by her family on June 29, 2021 at 69 years. Beloved wife of the late Juan Grimaldo; Devoted mother of Azucena (Eduardo) Calderon, Lorena Grimaldo and Lorenzo Grimaldo; Loving grandmother of Juan Calderon, Yvania Calderon and Jose Calderon; Dear sister of Efrain, Eutimio, Ludivina, Miguel Guadalupe, Santos Eusebio, Eleazar, Eduardo, Eloy and Griselda; Also survived by many nieces and nephews.
Lucinda was a very faithful and religious soul, she participated in many prayer groups. She dedicated her life to provide her best as a mother and grandmother for her family. She was known as the "Law and Order." She enjoyed cooking; she was just an all-around excellent woman. She truly gave the best advice, made sure to keep in touch with her friends always and gave unconditional love to those who were lucky enough to know her.
Relatives & friends are invited to the Visitation & Funeral on Wednesday from 6 to 8 PM and Thursday 9:15 to 10:15 AM at Falco Caruso & Leonard Funeral Home, 6600 Browning Road in Pennsauken. A Mass of Christian Burial will be celebrated at 11 AM at the Church of St. Joseph Pro Cathedral, 2907 Federal Street in Camden.
At the request of the family, final disposition will be held privately.