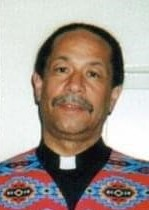 Obituary of Roy E. Bundy
Rev. Roy E. Bundy of Pennsauken, passed away peacefully on July 28, 2021 at the age of 69.
Beloved husband of Cynthia Samuels-Bundy; Dear brother of Ivanette Peterson (the late Robert, Sr.), the late Marian Wright (the late Harry) and the late Patricia Wright (Robert, Sr.); brother in law to Marcia Samuels and Cathy Samuels. He is also survived by many loving nieces, nephews, extended family members, church family members and a host of brothers and sisters in Christ and others whose lives he has touched.
Relatives and friends are invited to the Viewing and Visitation on Friday, August 6, 2021, from 5 to 8 PM at the Falco/Caruso & Leonard Pennsauken Funeral Home, 6600 N. Browning Road, and Saturday from 8:30 to 9:30 AM at St. Matthews United Methodist Church, 1665 Derousse Avenue, Pennsauken, NJ 08110.
An outdoor Funeral Service will be held on Saturday, August 7, 2021 at 10 AM at 7360 Pleasant Avenue in Pennsauken. Masks required and comfortable foot wear recommended. Interment will follow at Lakeview Memorial Park in Cinnaminson.
In lieu of flowers donations may be made to The Rev. Roy E. Bundy Scholarship Fund established by St John UMC Fordville. Donations may be sent to:
St. John UMC Fordville, PO Box 236, Bridgeton, NJ 08302- Attn: Rev. Roy E. Bundy Scholarship Fund
Info, condolences and guestbook at http://www.carusocare.com.
Due to current Covid concerns, please wear masks at all times and visit the Funeral Home website periodically for updated information. Information regarding expressions of sympathy in lieu of flowers will be posted in the near future.
Share Your Memory of
Roy E.